Factors of Positive Emotion Among Catering Students at UTHM During COVID-19 Pandemic
Keywords:
Factors, positive, emotion, pandemic, COVID-19
Abstract
This study aims to identify the main factors influencing positive emotions among Bachelor of Vocational Education (ISMPV) students catering at UTHM during the COVID-19 pandemic and to identify the differences in positive emotional factors between male and female students. This study only involves catering students from the Faculty of Technical and Vocational Education, Universiti Tun Hussein Onn Malaysia. This group of students is selected because they have experience learning before and during the COVID-19 pandemic. This is a quantitative study; therefore, the survey was conducted using a questionnaire instrument to obtain information from the sample. Analytical methods were used in descriptive and inferential forms, using questionnaires as research instruments. The data obtained were analyzed using the SPSS (Statistical Package for the Social Sciences) software version 25 to obtain the mean values, standard deviations, and t-test to observe the differences between students, male and female. The results showed that the main factor influencing positive emotions among catering students at UTHM during the Covid-19 pandemic was the social support factor with a total mean score of 4.66.  In addition, the inferential findings of the t-test found that there was no significant difference in positive emotional factors between male and female students because all the factors involved greatly helped each student to support positive thinking and behavior throughout the learning process.
Downloads
Download data is not yet available.
References
Ahad, N., Hamid, M. F. A., Noor, A. M., & Lazin, Z. (2020). Analisis faktor tekanan yang mempengaruhi pelajar kolej komuniti negeri Johor ketika perintah kawalan pergerakan. Jurnal Dunia Pendidikan, 2(3), 158-172.
Che Ahmad, C. N., Shaharim, S. A., & Yahaya, A. (2016). Kesesuaian persekitaran pembelajaran, interaksi guru-pelajar, komitmen belajar dan keselesaan pembelajaran dalam kalangan pelajar biologi. Jurnal Pendidikan Sains Dan Matematik Malaysia (JPSMM UPSI), 6(1), 101-120.
Damanhuri, M. F., Razak, M. R. A., & Ismail, E. (2021). Perkaitan Antara Gaya Hidup Dengan Komposisi Badan Dalam Kalangan Pelajar Kolej Profesional Mara Semasa Pandemik COVID-19. Jurnal Dunia Pendidikan, 3(1), 267-278.
Dumbiri, D. N., & Nwadiani, C. O. (2020). Challenges Facing Application of E-learning Facilities in Vocational and Technical Education Program in South Nigeria Universities. Asian Journal of Vocational Education And Humanities, 1(2), 1-8. https://doi.org/10.53797/ajvah.v1i2.1.2020
Hamidi, N. A. B. (2019). Sokongan Sosial Dan Penghargaan Kendiri Sebagai Petunjuk Kemurungan Dalam Kalangan Mahasiswa Insitusi Pengajian Tinggi (IPT): Social Support and Self-Esteem: Determinants of Depression among Higher Education Institution Students. The Sultan Alauddin Sulaiman Shah Journal (JSASS), 6(2), 58-70.
Ismail, M. H., Salleh, M. F. M., Aris, S. R. S., & Campus, P. A. (2017). Malaysian Education Plan 2013-2025: Transformation on Science. The Social Sciences, 12(1), 79-84.
Ithnin, A., & Abdullah, Z. (2018). Kepimpinan Instruksional Pengetua Seberang Perai Selatan, Pulau Pinang. Jurnal Kepimpinan Pendidikan, 5(3), 72–94.
Kedah, M. (2019). Pengaruh Sosioekonomi Keluarga Terhadap Keciciran Pelajar-pelajar India: Kajian Kes Di Daerah Kuala Muda Kedah. International Journal, 2(9), 77-91.
Krejcie, R. V., & Morgan, D. W. (1970). Determining sample size for research activities. Educational and psychological measurement, 30(3), 607-610.
Mailis, M. I., Hanim, Z. H., & Hassan, N. H. (2020). Persepsi Pelajar Kolej Universiti Islam Melaka Terhadap Pelaksanaan Pembelajaran Secara Atas Talian Dalam Era Pandemik Covid-19. Jurnal Kesidang, 5(1), 88-99.
Pratama, H., Azman, M. N. A., Kassymova, G. K., & Duisenbayeva, S. S. (2020). The Trend in using online meeting applications for learning during the period of pandemic COVID-19: A literature review. Journal of Innovation in Educational and Cultural Research, 1(2), 58-68.
Rosli, S. N., & Muda, W. H. N. W. (2018). Amalan Gaya Hidup Sihat Pelajar Universiti Tun Hussein Onn Malaysia. Online Journal for TVET Practitioners.
Saad, S. S., Wan Zaimah, D., Zahrul, A., & Hussain, O. (2018). Pengurusan stres dalam kalangan pelajar universiti. Pendayaupayaan Bahasa, Agama dan Transformasi Masyarakat, 135-147.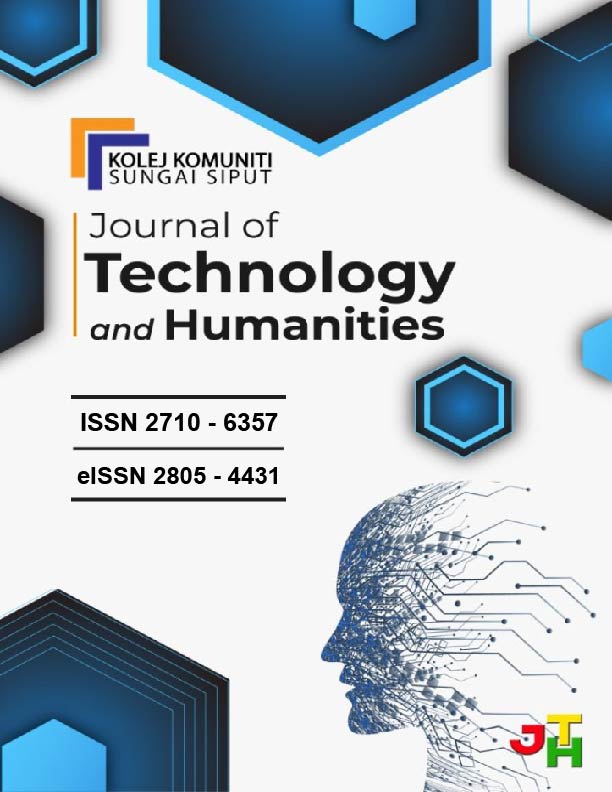 Downloads
How to Cite
Ahmad Zabidi, N. A., Zakariah, S. H., Abdul Rahman, K. A., Ahmad, N. A., Tukiran, N. A. I. A., & Syawal Ismail, L. M. (2022). Factors of Positive Emotion Among Catering Students at UTHM During COVID-19 Pandemic. Journal of Technology and Humanities, 3(2), 1-5. https://doi.org/10.53797/jthkkss.v3i2.1.2022
License
Copyright (c) 2022 Nurul Afiqah Ahmad Zabidi, Siti Hajar Zakariah, Khairul Anuar Abdul Rahman, Nor Aziah Ahmad, Nor Anis Intan Aqiah Tukiran, Lisa Mariam Syawal Ismail
This work is licensed under a Creative Commons Attribution-NonCommercial-ShareAlike 4.0 International License.