Development of 21st Century 4C Skills E-Module for Zhumadian Vocational and Technical College Students
Keywords:
4C skills, 21stcentury skills, learning module
Abstract
The 4Cs, consisting of communication, collaboration, critical thinking, and creativity, refer to 21st century skills that need to be applied in a variety of situations. Furthermore, 21st century skills are essential in today's global marketplace. China needs to learn from new experiences of educational reform in other countries. The aim of this study is to develop an e-module of 21st century 4C skills (communication, collaboration, critical thinking, and creativity) for students at Zhumadian Vocational and Technical College. This study will use the modified ADDIE model for the development of the 4C skills e-module. 5 experts and 218 lecturers were selected as a sample for the study. The experts filled in the expert evaluation form to evaluate the functionality of the e-module and the lecturers filled in the questionnaire form to evaluate its usability, and three experts ensured the validity of the expert evaluation form and the questionnaire. SPSS 26.0 was used for data analysis to evaluate the e-module. The results of this study showed that five experts considered the e-module to be highly functional in terms of format, content, language, media display and interactivity. The 218 lecturers who participated in the questionnaire also found the e-module highly functional in terms of usability, ease of use, attractiveness, and clarity. At the same time, experts and lecturers agreed that the e-module is an effective learning material that can have a positive and effective impact on students' learning of the 4C skills.
Downloads
Download data is not yet available.
References
Alsagoff, S. A. (1984). Teaching Technology. Kuala Lumpur: Dewan Bahasa Dan Pustaka.
Ayob, A., & Mohd Noor, N. (2003). Kepentingan Kemahiran Generik Di Kalangan Pekerja Di Industri Elektrik/elektronik Di Bayan Lepas, Pulau Pinang. Bachelor's Thesis, Universiti Teknologi Malaysia:
Bialik, M., & Fadel, C. (2015). Skills for the 21st Century: What should students learn? Center for Curriculum Redesign, 3(4), 29.
Darwin, W., Ridwan, & Ahyanuardi. (2020). Efektivitas pengembangan modul berbasis konstruktivisme pada mata pelajaran Sistem Komputer bagi siswa TKJ Tingkat SMK. Jurnal Edutech Undiksha, 8(1), 147–155.
Esther Care (2017). Global initiatives around 21st century skills assessment [EB/OL].
Fu, Q. (2015). Research on the ecological support for creator education based on "Chinese creation" [J]. China e-Education, (11), 6-12.
Gita, S. D., Annisa, M., & Nanna, W. I. (2018). Development of science modules on the relationship between living things and their environment based on a contextual approach. LENSA (Science Lantern): Journal of Science Education, 8(1).
Haryani, E., Cobern, W. W., & Pleasants, B. A. (2019). Indonesia vocational high school science teachers' priorities regarding 21st Century Learning Skills in their science classrooms. Journal of Research in Science Mathematics and Technology Education, 2(2), 105-133.
Idris, N. (2010). Penyelidikan dalam Pendidikan Kuala Lumpur: McGraw-Hill Education.
Kartimi, Shidiq, A. S., & Nasrudin, D. (2021). The elementary teacher readiness toward stem-based contextual learning in 21st century era. Elementary Education Online, 20(1), 145–156.
Kipper, L. M., Iepsen, S., Dal Forno, A. J., Frozza, R., Furstenau, L., Agnes, J., & Cossul, D. (2021). Scientific mapping to identify competencies required by Industry 4.0. Technology in Society, 64.
Liu, B. T. (2016). Project-oriented EXCEL Function Teaching Research, Information and Computer, 247-248.
Manan, F. A., Embi, M. A., & Mahamod, Z. (2010). Kerangka pembangunan dan penilaian modul belajar cara belajar bahasa Melayu pelajar asing institusi pengajian tinggi Malaysia. Asean Journal of Language Humanity and Education, 2(2), 59-71.
Mohamad, M. (2021). Best practices in m-learning design. Online Journal for TVET Practitioners, 6(1), 32-38.
Ningsih, T., & Jha, G. K. (2021). Strengthening Student Competency in Making Social Science Learning Media, Social Science Development Courses. Journal of Innovation in Educational and Cultural Research, 2(1), 1-6.
Nilasari, E., Djatmika, E. T., & Santoso, A. (2016). The effect of using contextualised learning module learning module on learning outcomes of fifth grade students. Elementary School. Journal of Education: Theory, Research, and Development, 1(7), 1399-1404.
Redhana, I. W. (2019). Developing 21st century skills in chemistry learning. Journal of Innovation Chemistry Education, 2239-2253.
Shaharom, N., & Yap, K. C. (1993). A modular approach in Physics for the secondary schools: Investigating alternative conceptions and conceptual change in a pilot study. Makalah UTM: Skudai UTM.
Sow, L. S. (2007). Penghasilan Modul Pembelajaran Berasaskan Teori Beban Kognitif Untuk Subjek Teknologi Maklumat Dan Komunikasi. Master Thesis, Universiti Teknologi Malaysia.
Wu, Y. H., Liu, X. D. & Zhong, J. J. (2017). Curriculum design and application of creator education--a case study of the 2015 graduate innovation course of East China Normal University [J]. Modern Distance Education Research, (1), 88-94.
Yang, X. M. (2016). The connotation, characteristics and design framework of "Creativity Course" [J]. Journal of Distance Education, (3), 3-14.
Zhang, W. L., Liu, B., Xia, X. G., & Wan, S. L. (2017). Curriculum theory perspective on the design of creative curriculum: elements and practical cases [J]. Modern Distance Education Research, (3), 76-85.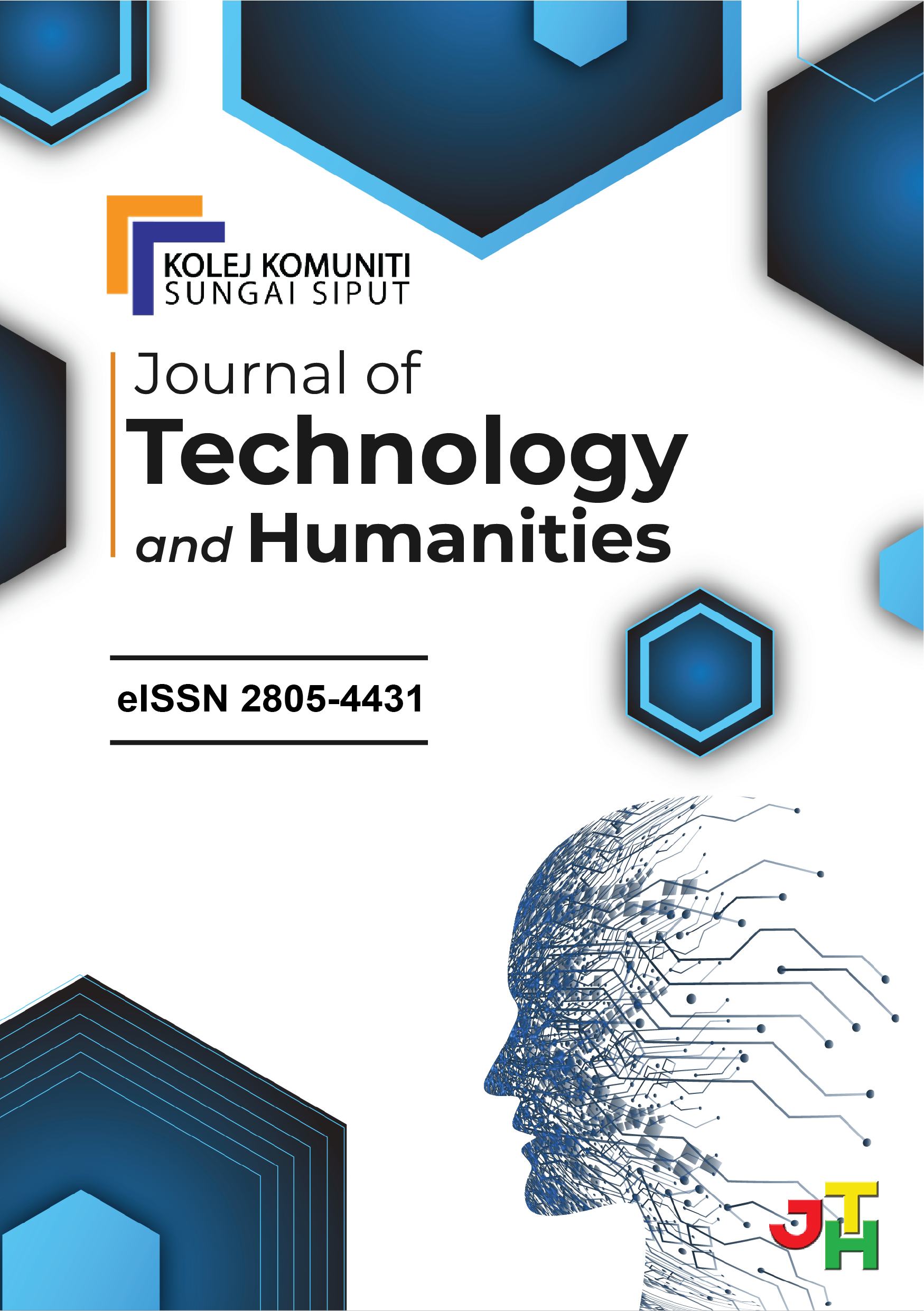 Downloads
How to Cite
Zhao, Z., Zainuddin, N. A., Swaran Singh, C. K., Rahmat, A. N., Risfendra, & Juhari, M. I. (2023). Development of 21st Century 4C Skills E-Module for Zhumadian Vocational and Technical College Students. Journal of Technology and Humanities, 4(1), 14-24. https://doi.org/10.53797/jthkkss.v4i1.2.2023
License
Copyright (c) 2023 Zhao Zhang, Noor Aliff Zainuddin, Charanjit Kaur Swaran Singh, Azis Nabawi Rahmat, Risfendra, Mohamad Ikhwan Juhari
This work is licensed under a Creative Commons Attribution-NonCommercial-ShareAlike 4.0 International License.