An Assessment of Online Learning Competency among Students of Higher Vocational and Technical School in China
Keywords:
Assessment, online learning, competency, technical and vocational
Abstract
Online learning has become a useful tool in education with the advancement of technology in higher learning institutes. It has gradually become a required ability for students in higher learning institutions to participate in online lessons where teaching and learning takes place virtually, following crucial changes in the current context with 21st century skill-set requirements within the educational sector. The purpose of this paper is to investigate the online learning competency among students at Henan Vocational College Institute of Art; to analyze if the factor of differences in gender and different majors of students' present differences in online learning competency. The questionnaire used for data collection is done with reference to the Likert scale with 19 items (4 of which are the demographic items, and 15 of which are the constructs of knowledge, skill, and attitude of competency), with anchor ranges from 1 to 5 in each item to probe for the 409 students' knowledge, skill and attitude regarding online learning competency. By using SPSS, students' online learning competency was analyzed with respect to the three mentioned aspects. The study found that students have high knowledge of online competency but only an intermediate level of skill and an intermediate level of attitude towards online learning. This study also found that there are no significant differences in gender and there are no significant differences between students' online learning competency in the aspects of students' majors. The study shows that higher learning institutions adopt online learning as a way to deliver learning content, it will not pose a challenge to students in terms of the knowledge and skill requirements to participate in online learning, and that it will be fair to the students as they have high knowledge, intermediate skills and intermediate attitude towards online learning. The implications of this study and direction for future studies are discussed.
Downloads
Download data is not yet available.
References
Albrahim, F. A. (2020). Online teaching skills and competencies. Turkish Online Journal of Educational Technology-TOJET, 19(1), 9-20.
Alexson, J. (2017). 6 Reasons Why eLearning Development Costs Less Than Traditional Training. Retrieved 14 June 2022, from https://elearningindustry.com/elearning- development-costs-less-than-traditional-training-6-reasons.
Asha, J. (2018). Teaching visual grammar in the context of digital texts. Scan: The Journal for Educators, 37, 228-233.
Barnum, M. (2020). Evidence of Learning Loss Is Piling Up. Here's How the US Could Design a Tutoring Program to Help. Chalkbeat, December, 9.
Barrot, J., Llenares, I., & del Rosario, L. (2021). Students' online learning challenges during the pandemic and how they cope with them: The case of the Philippines. Education and Information Technologies, 26(6), 7321-7338. doi: 10.1007/s10639-021-10589-x
Bates, A. W. (2005). Technology, E-Learning and Distance Education. London: Routledge.
Blazar, D., & Kraft, M. A. (2017). Teacher and teaching effects on students' attitudes and behaviors. Educational evaluation and policy analysis, 39(1), 146-170.
Cheng, Y. (2020). On Realistic Dilemma and Action Path of Informatization Development of Vocational Colleges during Post-epidemic Period. Vocational and Technical Education, 41(12), 12-16.
Cheng, K. H., & Tsai, C. C. (2013). Affordances of augmented reality in science learning: Suggestions for future research. Journal of science education and technology, 22(4), 449-462.
Coates, H., Wen, W., & Shi, J. (2020). Crisis is making online education economy go mainstream. University World News, 2.
Feng, J. Y., Guo, y. K., & Wang, Y. (2021). Research on Teaching Organization Mode of Modern Distance Education in Vocational Colleges. Occupation, 7, 24-25.
Fleming, S. W., Watson, J. R., Ellenson, A., Cannon, A. J., & Vesselinov, V. C. (2021). Machine learning in Earth and environmental science requires education and research policy reforms. Nature Geoscience, 14(12), 878-880.
Fornel, C., & Larcker, D. F. (1981). Structural equation models with unobservable variables and measurement errors. Journal of Marketing Research, 18(2), 39–50.
Gautam, V., Khandelwal, S., & Dwivedi, R. (2020). The Impact of Self-Efficacy and Need for Achievement on Management Students' Perceptions Regarding Web Based Learning Resources. International Journal of Education and Development using Information and Communication Technology, 16(2), 68-83.
Hung, M. L., Chou, C., Chen, C. H., & Own, Z. Y. (2010). Learner readiness for online learning: Scale development and student perceptions. Computers & Education, 55(3), 1080-1090.
Kharb, P., Samanta, P. P., Jindal, M., & Singh, V. (2013). The learning styles and the preferred teaching—learning strategies of first year medical students. Journal of clinical and diagnostic research: JCDR, 7(6), 1089.
Li, M. (2022). Practice of Modern Apprenticeship Mode in Higher Vocational Talents Training. China Journal of Commerce, 7, 140-142.
Makura, A. H. (2014). Students' perceptions of the use of ICT in a higher education teaching and learning context: The case of a South African University. Mediterranean Journal of Social Sciences, 5(11), 43.
Manoj, M., Das, A. R., Chandran, A., & Mandal, S. (2020). Antecedents of environmental engagement and environmental learning behaviour. Journal of Hospitality and Tourism Insights.
Miao, H. Y., Zhang, J. R., & Sun, L. X. (2022). Research on Distance Education: Historical Evolution, Perspective and Prospect. Journal of Vocational Education, 38(2), 108-116.
MOL. (2021). Professional Development in Online Education | Maryland. Retrieved 14 June 2022, from https://marylandonline.org/professional-development/
Pratama, H., Azman, M. N. A., Kassymova, G. K., & Duisenbayeva, S. S. (2020). The Trend in using online meeting applications for learning during the period of pandemic COVID-19: A literature review. Journal of Innovation in Educational and Cultural Research, 1(2), 58-68.
Riyanto, J., Kuat, T., & Tentama, F. (2020). The Influence of Work Competence, Learning Motivation, Independence And Discipline On Work Readiness Of Vocational School Students In Cilacap Regency. Asian Journal of Vocational Education and Humanities, 1(2), 25-36. https://doi.org/10.53797/ajvah.v1i2.3.2020
Roberts, T. G., & Dyer, J. E. (2005). A summary of distance education in university agricultural education departments. Journal of Agricultural Education, 46(2), 70-82.
Singh, A., & Alexander, P. A. (2022). Audiobooks, print, and comprehension: What we know and what we need to know. Educational Psychology Review, 1-39.
Shun, C. X. (2022). Connotation, Characteristics and Promotion Strategies of High-quality Development of Vocational Education in the New Era. Education and vocational, 3, 5- 12.
Simsek, I., Kucuk, S., Biber, S. K., & Can, T. (2021). Development of an Online Teaching Competency Scale for University Instructors. Open Praxis, 13(2), 201–212.
Wang, Y., & Gu, J. J. (2022). Intelligent Vocational Education: The Development Research of Vocational Education in the Age of Artificial Intelligence. Modern long-distance education, 199(1), 83-90.
Wu, L. (2022). Research on the Orientation of Undergraduate Talent Training in Vocational Education under the Background of Industrial Demand. ICCCM Journal of Social Sciences and Humanities, 1(3), 30–37. https://doi.org/10.53797/icccmjssh.v1i3.4.2022
Yang, Z., & Sheikh Khairuddin, S. M. H. (2022). The Pressing Needs of Human Resource Management Renovation of Higher Vocational Schools in China: From the Perspective of Teacher Competency. ICCCM Journal of Social Sciences and Humanities, 1(3), 19–29. https://doi.org/10.53797/icccmjssh.v1i3.3.2022
Zhand, Z. Q., & Chen, S. J. (2022). On Practical Teaching System based on Intelligent Learning Factory - Taking Intelligent Manufacturing Engineering as an Example. Higher Engineering Education Research, 2, 87-92.
Zhu, Y., Au, W., & Yates, G. C. (2013). University Students' Attitudes toward Online Learning in a Blended Course. Australian Association for Research in Education. Proceedings of the IASTED International Conference on Technology for Education and Learning, TEL 2011. 10.2316/P.2011.750- 054.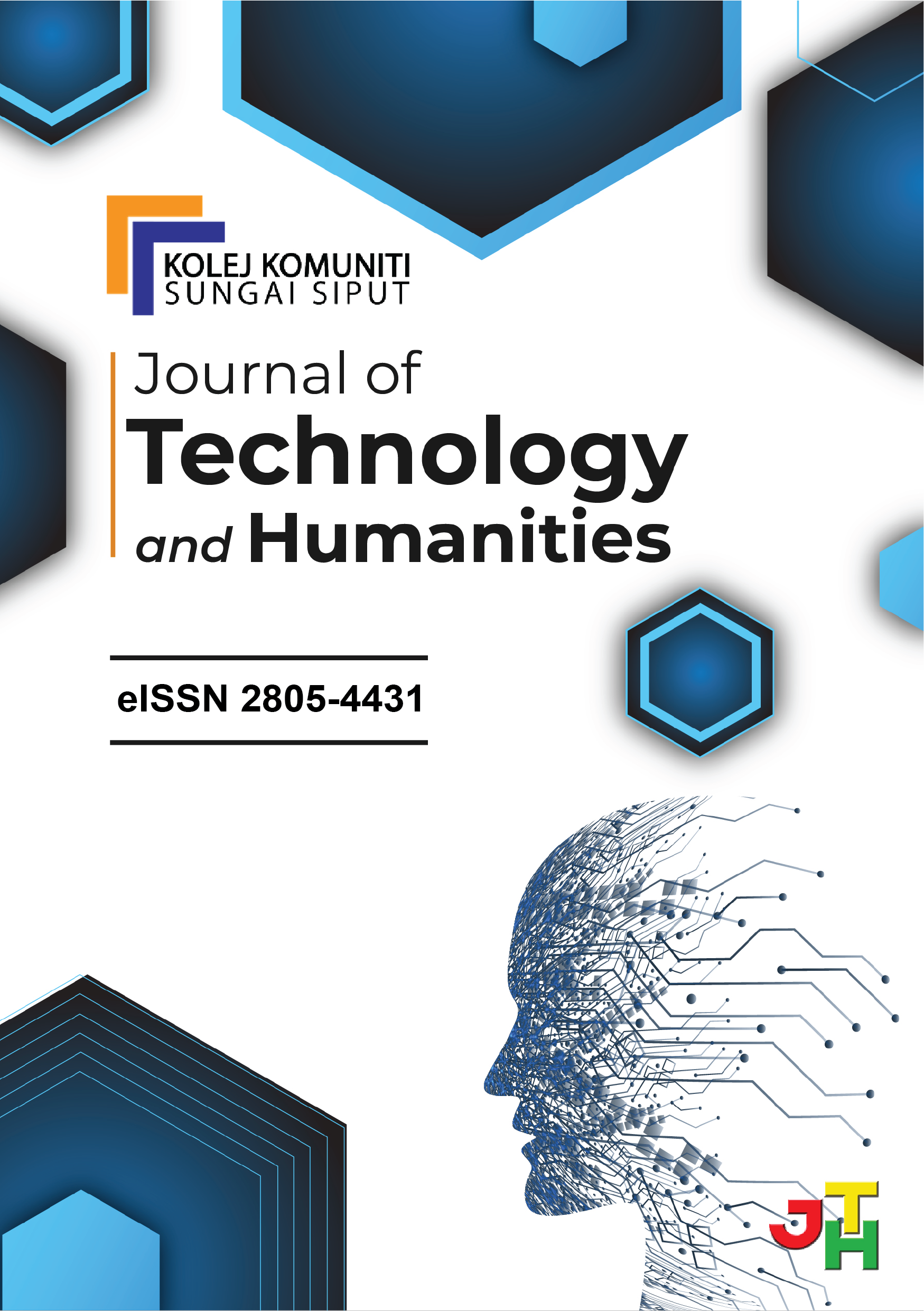 Downloads
How to Cite
Wei, Y., Lai, X. Y., Li, X. Q., Zhang, P. X., Guo, J. H., & Nur Rahma Putra, A. B. (2022). An Assessment of Online Learning Competency among Students of Higher Vocational and Technical School in China. Journal of Technology and Humanities, 3(1), 17-25. https://doi.org/10.53797/jthkkss.v3i1.3.2022
License
Copyright (c) 2022 Yahui Wei, Xiao Yan Lai, Xiao Qin Li, Pei Xuan Zhang, Ji Hong Guo, Andika Bagus Nur Rahma Putra
This work is licensed under a Creative Commons Attribution-NonCommercial-ShareAlike 4.0 International License.